About the client
Our agency has approached the company, the official partner of Uber for Business in Ukraine. The task of the client was to promote Ukrainian direction "Corporate cab for your business".

Business trips with Uber For Business is an opportunity for managers to provide their employees, customers and partners with a comfortable and advantageous ride. Plan the expenses for regular trips of their employees, control their financial and time expenditures via the application, organize comfortable "door-to-door" travel for the company's partners and clients.

For additional benefits, the company has a system of vouchers, which can also be used as an incentive gift for new clients or make them a bonus for regular clients.

It was important to communicate all of the offers and chips to the company's travel decision makers and their financial compensation.

Task
The target audience of our client is business owners, directors, managers, administrators, secretaries in any companies that pay for corporate travel for their employees, partners, etc.

Usually these are large firms with 200+ employees. By standard procedure, employees have to report on trips, collect and submit receipts from cab services. In addition to being time-consuming, employees often don't have time or forget to take the check and report the trips. Uber for Business solves all of these problems.

And to bring this offer to potential customers, we decided to use the social network Linkedin. The main motivation for choosing it was the fact that this is where LPRs are actively communicating about business issues. The search for employees, partners and new business solutions - it's all about Linkedin.

Total of large cities in Ukraine (Kiev, Odessa, Kharkiv, Lviv, Dnipro) in Linkedin registered about 13,000 employees in the administration of companies with a staff of 50 + people. And also - 8,800 CEOs of these companies.

Solution
Date of the advertising activity: 10.08.2020 - 14.09.2020.
Geography: Ukraine. Cities: Kiev, Lvov, Kharkov, Dnepr, Odessa.
Promotion object: The site of the company. Lead forms
Task: Targeted requests for Uber for Business service

We started our work with testing several hypotheses:

Due to the small size of the potential audience, we had to use optimization per impression rather than per conversion action.

The first hypothesis with click-throughs to the site did not work out. With a very good clickability of ads (taking into account optimization per impression and the norm for Linkedin
0.1-0.6%), unfortunately, no conversions were received on the site. Spent:
$198.16

Here are the results of this campaign:

The second hypothesis with feed ads with lead form conversions, also did not yield the expected results, although the response to the ads was not bad.

Spent: $265.01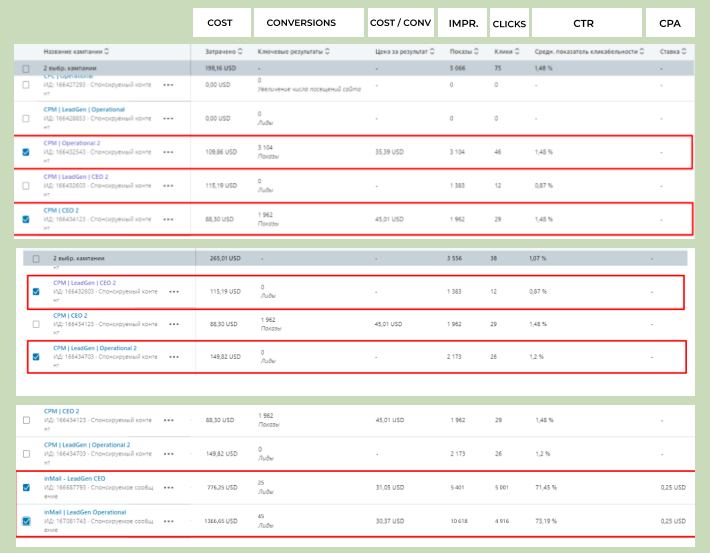 But our third hypothesis, in which we used sponsored mailings (inMail), was really effective. Its essence is that the user is sent a letter in a personal message on behalf of the head of the company, which reveals the essence of the proposal. There is also a button with the transition to the lead form in this announcement.


What the customer got

The CEO audience spent $776.25 USD and received 25 leads at a median price of $31.05.
The Administration audience spent $1366.65 and got 45 leads at average price of $30,37.
Insights: Price per sent message - $0.11 Message openability - 72.7%. Price per open message $0.15.


Insights
Linkedin has the ability to deliver information and an offer to the most targeted potential customers, even if the size of that audience is technically extremely small. At the same time, the price of such a message is minimal. For example, in the campaign for Uber for Business it was only $0.11.

But the specifics of setting up ads (the limit of 160 characters for the text in the mobile version) does not allow the essence of the proposal to be fully conveyed in the social network feed. Perhaps this played a role in the fact that inMail messages in which we can use a lot of text have been more effective.

Our experts will be happy to help you with your turnkey targeting advertising. Leave an application and our specialist will advise you in detail.